Cancer and Cannabis
Cancer is a term that covers more than 100 related types of diseases.
Cancer types are usually named for the organs or tissues where the cancers form. So, this simply means that lung cancer starts in cells of the lung, and brain cancer starts in cells of the brain.
The first recognition that cannabis could help in the preventing, inhibiting or halting the development of a neoplasm (a tumor) was in 1975.
"Lewis lung adenocarcinoma growth was retarded by the oral administration of delta9-tetrahydrocannabinol (delta9-THC), delta8-tetrahydrocannabinol (delta8-THC), and cannabinol (CBN), but not cannabidiol (CBD). Animals treated for 10 consecutive days with delta9-THC, beginning the day after tumor implantation, demonstrated a dose-dependent action of retarded tumor growth. Mice treated for 20 consecutive days with delta8-THC and CBN had reduced primary tumor size". Antineoplastic activity of cannabinoids.
Munson AE, Harris LS, Friedman MA, Dewey WL, Carchman RA.
J Natl Cancer Inst. 1975 Sep;55(3):597-602.
PMID: 1159836
In the 40 years since this research was performed, Cannabis and Cannabinoids have been shown to:
Inhibit the growth of tumour cells in culture and animal models of cancer by modulating key cell-signalling pathways. Cannabinoids: potential anticancer agents.
Guzmán M.
Nat Rev Cancer. 2003 Oct;3(10):745-55. Review.
PMID: 14570037
• Alleviate nausea and vomit induced by chemotherapy. Emerging strategies for exploiting cannabinoid receptor agonists as medicines.
Pertwee RG.
Br J Pharmacol. 2009 Feb;156(3):397-411. doi: 10.1111/j.1476-5381.2008.00048.x. Review.
PMID: 19226257 | Full article from PubMedCentral PMC2697681
• Inhibit pain. Cannabis in palliative medicine: improving care and reducing opioid-related morbidity.
Carter GT, Flanagan AM, Earleywine M, Abrams DI, Aggarwal SK, Grinspoon L.
Am J Hosp Palliat Care. 2011 Aug;28(5):297-303. doi: 10.1177/1049909111402318. Epub 2011 Mar 28. Review.
PMID: 21444324
• Exert palliative effects in cancer patients by preventing nausea, vomiting and pain and by stimulating appetite. Cannabinoid-opioid interaction in chronic pain.
Abrams DI, Couey P, Shade SB, Kelly ME, Benowitz NL.
Clin Pharmacol Ther. 2011 Dec;90(6):844-51. doi: 10.1038/clpt.2011.188. Epub 2011 Nov 2.
PMID: 22048225.
• Attenuates colon carcinogenesis and inhibits colorectal cancer cell proliferation via CB1 and CB2 receptor activation. Inhibition of colon carcinogenesis by a standardized Cannabis sativa extract with high content of cannabidiol.
Romano B, Borrelli F, Pagano E, Cascio MG, Pertwee RG, Izzo AA.
Phytomedicine. 2014 Apr 15;21(5):631-9. doi: 10.1016/j.phymed.2013.11.006. Epub 2013 Dec 25.
PMID: 24373545
• Be an inhibitor of MDA-MB-231 breast cancer cell migration. Cannabidiolic acid, a major cannabinoid in fiber-type cannabis, is an inhibitor of MDA-MB-231 breast cancer cell migration.
Takeda S, Okajima S, Miyoshi H, Yoshida K, Okamoto Y, Okada T, Amamoto T, Watanabe K, Omiecinski CJ, Aramaki H.
Toxicol Lett. 2012 Nov 15;214(3):314-9. doi: 10.1016/j.toxlet.2012.08.029. Epub 2012 Sep 8.
PMID: 22963825 | Full article from PubMedCentral PMC4009504
• The most recent studies suggest that Cannabis is an anti-cancer agent, and that the endocannabinoid system may play a dual role on the regulation of tumor generation and progression. The use of cannabinoids as anticancer agents.
Velasco G, Hernández-Tiedra S, Dávila D, Lorente M.
Prog Neuropsychopharmacol Biol Psychiatry. 2015 Jun 10. pii: S0278-5846(15)00119-0. doi: 10.1016/j.pnpbp.2015.05.010. [Epub ahead of print] Review.
PMID: 26071989 | Full article from Science Direct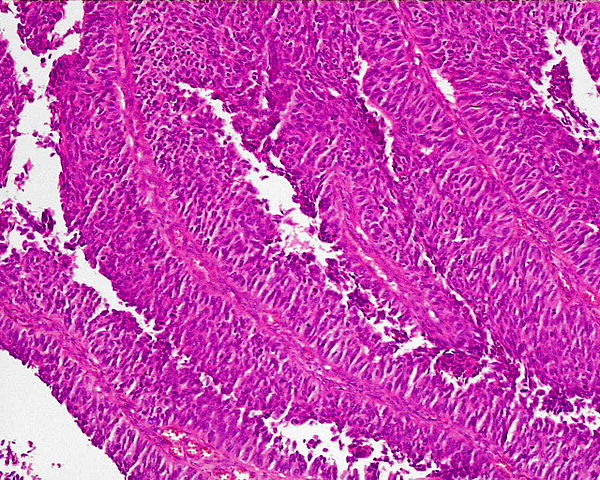 Urothelial carcinoma from urinary bladder (histopathology)
Taken at Dept. Clinical Pathomorphology and Cytology, Medical University, Lodz, Poland
Image credit: Public domain | Wikimedia Commons
Further reading
National Cancer Institute :
Cannabis and Cannabinoids - for health professionals.
National Cancer Institute :
Cannabis and Cannabinoids - for patients.
This article (10th of june 2015), from Guillermo Velasco, Sonia Hernández-Tiedra, David Dávila, and Mar Lorente entitled, The use of cannabinoids as anticancer agents, is a great starting point for anyone interested in cannabis, cannabinoids and cancer.
American Association for Cancer Research:
Δ9-Tetrahydrocannabinol Inhibits Cell Cycle Progression in Human Breast Cancer Cells through Cdc2 Regulation.
María M. Caffarel1, David Sarrió, José Palacios2, Manuel Guzmán1, and Cristina Sánchez.
Disclaimer: This website is for information only and should not be used for the diagnosis or treatment of medical conditions. Cannabis.com.au has used all reasonable care in compiling the information but makes no warranty as to its accuracy. Consult a doctor or other health care professional for diagnosis and treatment of medical conditions.