Cannabicyclol (CBL)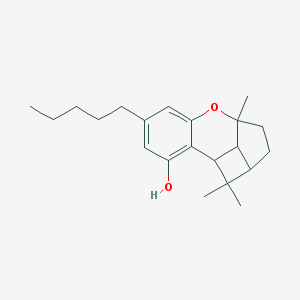 Molecular Formula: C21H30O2
Image credit: PubChem
CBL is said to be an artifact of CBC.
Photochemical conversion of CBC into CBL was demonstrated in 1968. Hashish components. Photochemical production of cannabicyclol from cannabichromene
L. Crombie, R. Ponsford
Department of Chemistry, University College, (University of Wales), Cathays Park, Cardiff. Australia
A. Shani, B. Yagnitinsky, R. Mechoulam
Laboratory of Natural Products, School of Pharmacy, Hebrew University, Jerusalem, Israel.
doi:10.1016/S0040-4039(00)76346-5
Cannabicyclol is also known as Cannabipinol.