Addiction and Cannabis
Substance abuse and addiction is a concerning problem for humanity.
Is it possible that Cannabis could be the solution rather than the problem?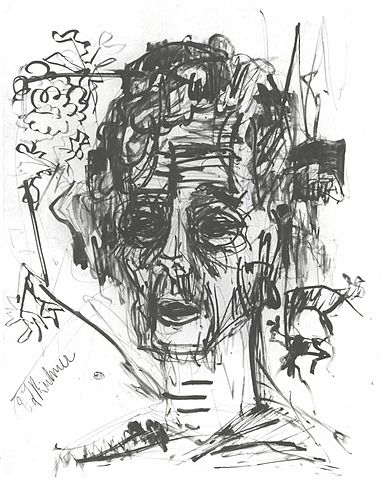 Selfportrait under the influence of morphium.
Image credit: Ernst Ludwig Kirchner [Public domain], via Wikimedia Commons.

Four full open access studies we think are worth considering examine the proposition that cannabis can assist in helping keep people from using psychostimulants, opioids and/or alcohol.

The first study is called, Modulation of the Endocannabinoid System: Vulnerability Factor and New Treatment Target for Stimulant Addiction. Modulation of the endocannabinoid system: vulnerability factor and new treatment target for stimulant addiction.
Olière S, Joliette-Riopel A, Potvin S, Jutras-Aswad D.
Front Psychiatry. 2013 Sep 23;4:109. doi: 10.3389/fpsyt.2013.00109. Review.
PMID: 24069004 | Full article at PubMedCentral

The second article, is called, Therapeutic use of cannabis by crack addicts in Brazil. Therapeutic use of cannabis by crack addicts in Brazil.
Labigalini E Jr, Rodrigues LR, Da Silveira DX.
J Psychoactive Drugs. 1999 Oct-Dec;31(4):451-5.
PMID: 10681113 | Full article from Researchgate From the abstract;
"Throughout a period of nine months, the researchers followed up on 25 male patients aged 16 to 28 who were strongly addicted to crack, as diagnosed through the Composite International Diagnostic Interview (CIDI), according to CID-10 and DSM-IV diagnostic criteria."

"Most of the subjects (68%, or 17 individuals) ceased to use crack and reported that the use of cannabis had reduced their craving symptoms, and produced subjective and concrete changes in their behavior, helping them to overcome crack addiction."
The third article worth considering is called, Cannabidiol as an Intervention for Addictive Behaviors: A Systematic Review of the Evidence. Cannabidiol as an Intervention for Addictive Behaviors: A Systematic Review of the Evidence.
Prud'homme M, Cata R, Jutras-Aswad D.
Subst Abuse. 2015 May 21;9:33-8. doi: 10.4137/SART.S25081. eCollection 2015. Review.
PMID: 26056464 | Full article from PubMedCentralThis article is a review of the available studies concerning CBD specifically. From the article conclusion;
"CBD is an exogenous cannabinoid that acts on several neurotransmission systems involved in addiction. Animal studies have shown the possible effects of CBD on opioid and psychostimulant addiction, while human studies presented some preliminary evidence of a beneficial impact of CBD on cannabis and tobacco dependence."

CBD has several therapeutic properties on its own that could indirectly be useful in the treatment of addiction disorders, such as its protective effect on stress vulnerability and neurotoxicity."
The fourth open access article is called, Cannabis as a substitute for alcohol and other drugs. This study found that 40% of participants reported using cannabis as a substitute for alcohol, 26% as a substitute for illicit drugs and 65.8% as a substitute for prescription drugs. Cannabis as a substitute for alcohol and other drugs.
Amanda Reiman. University of California, Berkley.
Harm Reduct J. 2009; 6: 35.
Published online 2009 Dec 3.
doi: 10.1186/1477-7517-6-35
Further reading
Cannabis as a Substitute for Alcohol: A Harm-Reduction Approach.
Tod H. Mikuriya.
Journal of Cannabis Therapeutics 10/2008; 4(1).
doi: 10.1300/J175v04n01_04
Cannabis as a substitute for alcohol and other drugs: A dispensary-based survey of substitution effect in Canadian medical cannabis patients.
Philippe Lucas, Amanda Reiman, Mitch Earleywine, Stephanie K. McGowan, Megan Oleson, Michael P. Coward, Brian Thomas
Addiction Research & Theory 2013 21:5 , 435-442
doi:10.3109/16066359.2012.733465
A Critical Review of the Antipsychotic Effects of Cannabidiol: 30 Years of a Translational Investigation.
Bentham Science:PMID: 22716160
The effects of dronabinol during detoxification and the initiation of treatment with extended release naltrexone
Bisaga A, Sullivan MA, Glass A, Mishlen K, Pavlicova M, Haney M, Raby WN, Levin FR, Carpenter KM, Mariani JJ, Nunes EV.
Drug Alcohol Depend. 2015 Sep 1;154:38-45. doi: 10.1016/j.drugalcdep.2015.05.013. Epub 2015 Jul 8.
PMID: 26187456
Articles and editorials
The Conversation:
Could a regulated cannabis market help curb Australia's drinking problem?
Disclaimer: This website is for information only and should not be used for the diagnosis or treatment of medical conditions. Cannabis.com.au has used all reasonable care in compiling the information but makes no warranty as to its accuracy. Consult a doctor or other health care professional for diagnosis and treatment of medical conditions.