Angiodema and Cannabis
Angiodema is swelling that is similar to hives, but the swelling is under the skin instead of on the surface. MedlinePlus: Angiodema definition.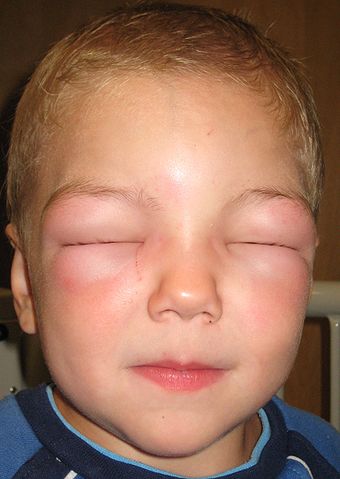 Allergic angioedema: this child is unable to open his eyes due to the swelling.
Image credit; By James Heilman, MD (Own work)
[CC BY-SA 3.0 or GFDL ], via Wikimedia Commons

The first report of a cannabis product being associated with an "excellent clinical response" when used as a treatment for angiodema was recently published by researchers from Ben-Gurion University of the Negev, in Beersheba, Israel. Life Threatening Idiopathic Recurrent Angioedema Responding to Cannabis.
Frenkel A, Roy-Shapira A, Evgeni B, Leonid K, Borer A, Klein M.
Case Reports Immunol. 2015;2015:780824. doi: 10.1155/2015/780824. Epub 2015 Jul 16.
PMID: 26257969 | Full article from PubMedCentral
"The rate of attacks dropped from at least twice a month to nil, appeared again a week after cessation, and disappeared again when treatment was restarted. This course is consistent with Koch's postulates for establishing causality: frequent attacks before treatment, no attacks during treatment, and recurrence after temporarily stopping treatment."
Disclaimer: This website is for information only and should not be used for the diagnosis or treatment of medical conditions. Cannabis.com.au has used all reasonable care in compiling the information but makes no warranty as to its accuracy. Consult a doctor or other health care professional for diagnosis and treatment of medical conditions.