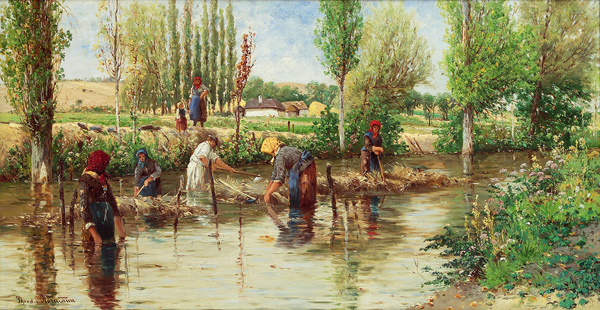 Hanfeinlegen - (Women processing hemp in the water) ca. 1890
Theodor von Hörmann [Public domain], via Wikimedia Commons

Cannabis has been associated with use by humans for more than 5000 years.

In 1921, Chinese pottery from the Neolithic period (10200 BC - 2000 BC) was discovered, decorated with impressions of woven hemp cloth. You can see an example of one of these pottery containers at the Art gallery of NSW.

An Archaeological and Historical Account of Cannabis in China
Author(s): Hui-Lin Li
Source: Economic Botany, Vol. 28, No. 4 (Oct. - Dec., 1974), pp. 437-448
JSTOR

The Egyptians were also known for using Cannabis. This was confirmed by F Parsche and A Nerlich, when THC was identified in the lung tissue of a mummy examined from the period associated with the 21st Egyptian dynasty (approx. 950BC). Amongst the drugs identified by use of radio immunoassay systems and gas chromatography/mass spectrometry, THC was confirmed present with the highest concentration found in the lung tissue.
Presence of drugs in different tissues of an egyptian mummy
Franz Parsche, Andreas Nerlich
Institut für Anthropologie und Humangenetik der Universität München
Fresenius Journal of Analytical Chemistry 12/1994; 352(3):380-384.
DOI: 10.1007/BF00322236

Although it is impossible to determine exactly how popular Cannabis was 5000 years ago, according to the United Nations Office on Drugs and Crime (UNODC) World Drug Report 2015, Cannabis is the most widely used illicit substance used worldwide, with more than 181.8M users.

So perhaps it is time to look at cannabis in a new light.

Rather than looking at cannabis use as a problem that needs to be solved, perhaps we should be looking at it as a possible solution to a wide range of societal and medical issues.

Conditions such as Alzheimers, alcohol abuse, amphetamine addiction, childhood epilepsy, cancer, chronic pain and MS have all been shown to be effectively treated with the medical use of Cannabis.

The current legal situation forces patients to choose between compromising their health and breaking the law.

This situation appears to be on the verge of changing with the report being handed down on 11th of August 2015, in support of The Regulator of Medicinal Cannabis Bill 2014.

"The committee's unanimous endorsement of the bill is a significant step towards achieving medicinal cannabis reform. This issue is not about politics, it's about getting medicine to people who need it." Press Release: Senate Committee unanimously endorses medicinal cannabis bill.
Senator Richard Di Natale.
Australian Greens: Health: 11 August 2015
http://richard-di-natale.greensmps.org.au/content/media-releases/senate-committee-unanimously-endorses-medicinal-cannabis-bill
Dr. Richard Di Natale. Leader of Australian Greens.